Decrust G Gel
Specialty Gel for the Removal of Paints from Aluminum and other materials


Product Description
DECRUST® G Gel is a newly developed Gel designed for the removal of paint from various surfaces like but not limited to steel, Aluminum, glass, ceramics, coated polymers and concrete.
Application

Many surfaces are coated with paints. Such paints may be organic or water based. Removal of such paints predominantly is done by sand - or carbon dioxide blasting. However such paint removing technologies detrimentally may affect the surfaces. DECRUST® G Gel does remove paint easily and quickly without detrimentally affecting the surface.
DECRUST® G Gel is a newly developed product designed to quickly and efficiently remove all kind of paints from various surfaces. After application of the Gel onto the paint the paint dissolves within minutes and simply can be wiped off with a cloth or by application of a water spray or high pressure water spray.
In case that paint in form of a Graffiti will have to be removed from a painted area most likely such paint also will be removed by the DECRUST® G Gel. The area will have to be repainted.

Product Information
DECRUST® G Gel is a non hazardous product (Transport). The application of the Gel is easy.
Application
DECRUST® G Gel is supplied as a ready to use product. Best results are achieved by simple application of the Gel onto the paint with a brush or roller. Elevated ambient temperatures accelerate the paint removal process. Attributable to the Gel character of the product the Gel sticks to vertical areas without any unwanted flowing down of the Gel or of the removed colors. In case of an even surface DECRUST® G Gel dissolved paint easily is wiped off from the surface with a simple cloth.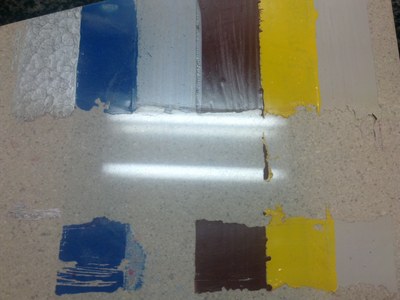 Removal of the dissolved colors from uneven surfaces is best done with a water power spray. In case of porous surfaces the paint already has deeply penetrated into the stone. In order to remove such paint repeated application of DECRUST® G Gel may be required followed by removal of the dissolved colors with a water power spray.
Physical Properties
| | |
| --- | --- |
| Composition | Proprietary formulation |
| Active component | Polyfunctional composition |
| Appearance | Colorless gel |
| pH | Alkaline |
| Stability | Stable |
| Storage | Stable |